A new direct start has been added to the "Exum Arête" route at Rocks Springs Buttress (in Jackson Hole, Wyoming) making an already classic climb even better. The original first pitch to "Exum Arête" was nothing more than an easy, scrambling approach pitch that followed the line of least resistance. Now climbers can choose a more optimal direct line up a beautiful wall of perfect granite!
The route was established in the spring of 2014 by Wesley Gooch, Toby Stegman, and Max Bechdel and is a single 5.10c sport pitch (140 feet, 12 bolts). This new direct start is a natural-addition and has proven to be an awesome first pitch to both "Exum Arête" and/or "Clowns & Jokers" (another area classic).
Enough talk, here's the beta…
Route Topo (Free Download)
Direct Exum Arête Printable Route Topo
Viewing Trouble?

Download the PDF first:
Right-click > Save Link As

For Guide Updates: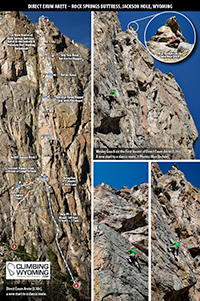 Warning & Disclaimer
Climbing is Inherently Dangerous: Risks include serious injury or death! By using this mini-guide, you acknowledge/assume all risks and agree to release the author/publisher of all liability.
This mini-guide is a rough draft, may contain errors, and has no warranty.
Wesley Gooch getting the First Ascent of Direct Exum Arête – 5.10c sport (140 feet, 12 bolts).
Select a photo to enlarge.
Photos by Max Bechdel & Wesley Gooch.
Location:
Direct Exum Arête starts to the right, and downhill a few hundred feet, of the original first pitch of Exum Arête. Refer to the downloadable route topo for a photo.
Gear:
For gear, you'll need to bring draws for 12 bolts, plus one optional #1 red Camalot (1-inch piece) to protect the final section after the last bolt. Note that the bolts have been painted and are camouflaged well.
Rappel:
The pitch is 140 feet tall and there are no rappel chains! To descend, use the standard rappel anchors located to the left of the belay (far left side of the major ledge system).
For More Information:
For information on other routes at Rock Springs Buttress, refer to the guidebook: Rock Climbing Jackson Hole & Pinedale, Wyoming by Wesley Gooch.
The red marker indicates the start of the route.
Refer to the Jackson Hole Day Climbing Guide for more information on Rock Springs Buttress.