Twenty-four miles southeast of Pinedale, Wyoming, tucked just inside of the Wilderness Boundary lies a 120-meter (400-foot) buttress of bombproof Wind River granite. Scab Creek Buttress offers trad climbers a day trip wilderness experience and on most summer days, you'll have the entire buttress to yourself.
Area Overview
Scab Creek Buttress is home to an assortment of moderately rated multi-pitch traditional routes. Most of these routes offer great protection and easy route finding. The approximately 45-minute hike and concentration of traditional routes effectively fends off crowds, yet the beautiful rock, vistas, and multi-pitch routes are sure to inspire dedicated climbers to venture higher into the Wind River Mountains.
A Preview of Scab Creek Buttress
Download The Free Mini-guide
Scab Creek Buttress Mini-guide
Includes Multi-pitch Traditional & Top Rope Routes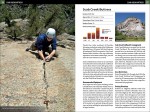 About The Mini-guide
Copyright 2011 by Acroterra Inc.
Free for personal use only.
Re-distribution in any form is prohibited.
File Trouble? Get the free Acrobat Reader.
Viewing Trouble? Download the PDF before opening: Right-click > Save As
Warning & Disclaimer
Climbing is Inherently Dangerous: Risks include serious injury or death! By using this mini-guide, you acknowledge/assume all risks and agree to release the author/publisher of all liability.
This mini-guide is a rough draft, may contain errors, and has no warranty.
The Red Marker Labels Scab Creek Buttress
Refer to the Mini-Guide for written driving instructions.