The new rock climbing guide to Jackson & Pinedale, WY will be includes a little-known bouldering and top roping destination called The Galaxy. This up-and-coming area is every boulderer's dream playground – there are literally hundreds of easily accessible, and densely concentrated boulders within a 1-15 minute approach.
The Galaxy's obscurity to climbers has kept this hidden gem from being fully explored, in fact, only a handful of boulders have been climbed. Should you choose to visit, expect to find high quality granite ranging from 10-40 feet in height of all styles and difficulties. The first ascent potential is immense. Those willing to explore will be greatly rewarded!
The Galaxy Bouldering Guide
Includes Bouldering, Top Roping, & An Introduction To First Ascent Potential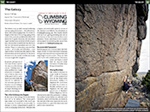 About The Mini-guide
Copyright 2011 by Acroterra Inc.
Free for personal use only.
Re-distribution in any form is prohibited.
File Trouble? Get the free Acrobat Reader.
Viewing Trouble? Download the PDF before opening: Right-click > Save As
Warning & Disclaimer
Climbing is Inherently Dangerous: Risks include serious injury or death! By using this mini-guide, you acknowledge/assume all risks and agree to release the author/publisher of all liability.
This mini-guide is a rough draft, may contain errors, and has no warranty.
A Brief Overview of The Galaxy
Video: Tour of the Galaxy
A brief overview of the Galaxy
This short video (by Jakub Galczynski) shows a brief overview of the Galaxy and introduces a few boulders, some of which have been already documented in the free guide.
The Red Marker Labels The Galaxy
Refer to the Mini-Guide for written driving instructions.
Please Report First Ascents
Share Your First Ascents With The Climbing Community 
Report New Routes to ClimbingWyoming.com For Inclusion in the Mini-Guide
How To Submit First Ascent Beta
Please email Wesley Gooch (Wesley@ClimbingWyoming.com) the names, ratings, and a brief description for each route you establish. Alternatively, use the contact form to initiate communication, and include your contact information so I can followup. For clarity, photos of the problem, boulder, and climbers on route are greatly appreciated (and possibly even used in the Mini-Guide). First Ascent credits will also be recorded.
Climb Safe, Climb Hard, & Have Fun!