The Boulder Lake Domes chapter (see below for download link) did not make the print guidebook because the area is still in it's infancy. However, there is good opportunity for new route development.
Area Overview
Above Boulder, WY's, Boulder Lake trailhead and summer homes, near the edge of the Wilderness Boundary, is a cluster of large granite domes nicknamed "The Ranch." Although these rock formations have always had obvious climbing potential, they remained relatively unexplored until the summer of 2010, when all but a hand­ful of the routes listed herein were established.
At the time of this writing (2011), the majority of the route's at Boulder Lake are easy (5.4-5.10) but there is good potential for harder climbing on the steeper domes. Until harder routes are established, Boulder Lake could be considered a suitable training ground for beginning traditional climbers that are not afraid of exploring or adventure climbing.
Keep in mind that this area is new to climb­ing. Many of the routes have only seen a few ascents – be prepared for loose rock and dirty cracks. Wear a helmet.
A Brief Overview of Boulder Lake Domes
Download The Free Rock Climbing Guide
The Boulder Lake Domes Guide
Includes Bouldering, Top Roping, & An Introduction To First Ascent Potential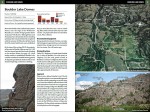 About The Mini-guide
Copyright 2011 by Acroterra Inc.
Free for personal use only.
Re-distribution in any form is prohibited.
File Trouble? Get the free Acrobat Reader.
Viewing Trouble? Download the PDF before opening: Right-click > Save As
Warning & Disclaimer
Climbing is Inherently Dangerous: Risks include serious injury or death! By using this mini-guide, you acknowledge/assume all risks and agree to release the author/publisher of all liability.
This guide is a rough draft, may contain errors, and has no warranty.
The Marker Labels Boulder Lake Domes
Refer to the Mini-Guide for written driving instructions.
Much To Be Explored
Most of Boulder Lake's Domes Remain Unexplored
In reality, only a small fraction of the domes above Boulder Lake have been explored. Few details are available, however, the largest formations have yet to be climbed and at least two walls hold promise for multi-pitch routes (two pitches). For those seeking greater challenges, there are at least four overhanging walls scattered about the uncharted territory south of Thunderdome. For those who choose to explore, the approaches may demand a rappel(s). There are rumors of a lofty alpine buttress found somewhere further up the main trail.
Please Report First Ascents
Share Your First Ascents With The Climbing Community 
Report New Routes to ClimbingWyoming.com For Inclusion in the Mini-Guide
How To Submit First Ascent Beta
Please email Wesley Gooch (Wesley@ClimbingWyoming.com) the names, ratings, and a brief description for each route you establish. Alternatively, use the contact form to initiate communication, and include your contact information so I can followup. For clarity, photos of the problem, boulder, and climbers on route are greatly appreciated (and possibly even used in the Mini-Guide). First Ascent credits will also be recorded.
Climb Safe, Climb Hard, & Have Fun!