Lizard Rocks, also called Hansel & Gretel, is primarily known as an easy to moderate crag with a relaxed climbing style. Lizard Rocks' close proximity to Pinedale and short approach make this destination a great place to catch a few climbs after work. For the most part, the routes are safe and well suited for the beginner to moderate climber. In addition, several of the climbs are family friendly. The climbing here is not for everyone, but regardless, nobody can complain about the area's absolutely stunning vistas.
In the Fall of 2011…
Several new sport and mixed routes were established that are not included in the new climbing guide. In addition, a half dozen previously established routes were re-engineered to be safer, more direct, and/or overall more enjoyable. Lizard Rock's is essentially a new climbing area and to supplement the guidebook, the entire revised and updated Lizard Rock's chapter is available as a free downloadable mini-guide (see below for download link).
Download The Free Climbing Guide
The Lizard Rocks Guide
Includes Sport & Trad Routes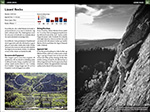 About The Guide
Copyright 2011 by Acroterra Inc.
Free for personal use only.
Re-distribution in any form is prohibited.
File Trouble? Get the free Acrobat Reader.
Viewing Trouble? Download the PDF before opening: Right-click > Save As
Warning & Disclaimer
Climbing is Inherently Dangerous: Risks include serious injury or death! By using this mini-guide, you acknowledge/assume all risks and agree to release the author/publisher of all liability.
This mini-guide is a rough draft, may contain errors, and has no warranty.
A Preview of Lizard Rocks
The Red Marker Labels Lizard Rocks
Refer to the Mini-Guide for written driving instructions.