Guide Updated! Download the latest version.
The Happy Hour Wall is moderate sport climbing at its best. The wall is nestled in a beautiful alpine setting on the northern end of Tensleep Bowl at Jackson Hole Mountain Resort. The crag gets morning sun and falls into the shade around 2:30 PM, making for a cool after work climbing destination.
The wall's character is far steeper than you'd expect with huge holds, big moves, and an often thuggish style. All in all, the Happy Hour Wall is just pure fun climbing. All routes are well bolted and safe to push your abilities. Ideal for newer climbers and suitable for teaching.
For the lazy climber, the approach/descent is easy and highly scenic. Take advantage of the Gondola to down load off the mountain, which stays open late to service the Bridger Restaurants. Climbers often climb until dusk, hike to the Gondola, enjoy a beer, and then casually ride the Gondola down.
Download the free guide below for the approach and routes information…
---
NOTE: Summer 2018 Gondola Trail Access Temporarily Closed For Construction
Jackson Hole Mountain Resort is currently building new avalanche control systems on the slopes above the Cirque Trail. Specifically, in the Pepi's Bench area. Construction crews are trundling rocks and as such the trail from the Gondola up to Ten Sleep Bowl is temporarily closed until construction is complete. However, Happy Hour Wall access is still permitted from the Tram, but please plan to hike back to the Tram to down load off the mountain. The Cirque trail should be re-opened around mid-July. Please check the resort's website trail status for current access information: jacksonhole.com/maps/hiking-summer.html
Happy Hour Wall Downloadable/Printable Guide
Viewing Trouble?

Download the PDF first:
Right-click > Save Link As

For Guide Updates: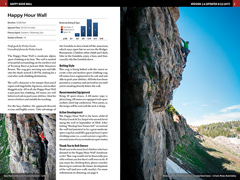 Warning & Disclaimer
Climbing is Inherently Dangerous: Risks include serious injury or death! By using this mini-guide, you acknowledge/assume all risks and agree to release the author/publisher of all liability.
This mini-guide is a rough draft, may contain errors, and has no warranty.
Select a photo to enlarge.
Photos by Wesley Gooch, Eric Rohr, and Mark Smiley.
The red marker indicates the wall's location.